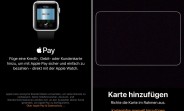 Apple Pay is available in quite a few countries and territories already, but its international expansion isn't slowing down. One of the countries most rumored to get the mobile payments service has been Germany, with some mumblings from May suggesting a launch in the fall or winter. The former of those time frames seems more likely in light of new information that's surfaced today.

If you're in Germany running the latest betas of iOS 11 and watchOS 4, when you set up your Apple Watch you will be presented with the screens you can see below. They tell you about Apple Pay and apparently give......
By: GSMArena - Friday, 11 August
To add to this post, use the comments section below to share your views or click here for detailed content
Metro Tell is a complete voice of the world's media. We are constantly distributing news and information items every minute of the day from numerous number of news establishments, publishers and blogs to the general public. MetroTell.co.za is the one source for all the news and stories you love.
All images, logos, trademarks and copyrights on MetroTell.co.za are owned by their respective owners.
- Advertisement -
Related Posts