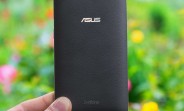 Asus recently launched six new phones, two of them being the Zenfone 4 Selfie and the Zenfone 4 Selfie Pro. Now, another version pops up in Malaysia, named Zenfone 4 Selfie Lite. Unlike the first two models that have dual front cameras, the Lite option comes with only one 16 MP sensor for selfies.

The Selfie 4 Lite has a 5.3" screen with HD resolution. The memory is 3 GB RAM + 32 GB storage. The camera on the back is 16 MP with f/2.0, just like the front-mounted snapper.

Asus Malaysia launched the phone with a model number ZB520KL and will offer the phone for MYR899 or around......
By: GSMArena - Wednesday, 23 August
To add to this post, use the comments section below to share your views or click here for detailed content
Metro Tell is a complete voice of the world's media. We are constantly distributing news and information items every minute of the day from numerous number of news establishments, publishers and blogs to the general public. MetroTell.co.za is the one source for all the news and stories you love.
All images, logos, trademarks and copyrights on MetroTell.co.za are owned by their respective owners.
- Advertisement -
Related Posts
Older News
Wheels24.co.za | 'Sorry, whats your name? 'Sasol!' - Great SA car ads Wheels24 (Today) - 'Corsa lite, the lite side of life', 'Buddy and son'... roll back the years with some of South Africa's most memorable car adverts. Which ad is your all-time favourite in...
Asus Zenfone 5 may launch as early as next March GSMArena (Yesterday) - Asus has just yesterday officially brought its Zenfone 4 family of smartphones to Europe, but it's already thinking about the next generation. According to a new report from the company's...
Asus Zenfone 4 series is now official for Europe GSMArena (Yesterday) - As scheduled, Taiwanese manufacturer Asus has officially announced its Zenfone 4 series of smartphones for Europe. The unveiling took place during the We Love Photo press event in Rome."We are...
Asus Zenfone 4 and Zenfone 4 Max are officially headed to the UK GSMArena (2 days ago) - Asus is launching two members of its ever-expanding Zenfone 4 family in the UK this year. The Zenfone 4 and Zenfone 4 Max will both become available in the next...
Huawei Mate 10 Lite leaks in hands-on video, showing off its four cameras and 18:9 screen GSMArena (2 days ago) - To the disappointment of no one, we yesterday found out that Huawei won't rebrand the Maimang 6 for countries other than China as G10, instead selling the same device as...
Quad-camera Huawei Maimang 6 to be sold outside China as Mate 10 Lite, not G10 GSMArena (3 days ago) - On September 22, Huawei is set to unveil the Maimang 6 for its home market of China. This phone has been leaking a lot lately, and we thought that it...