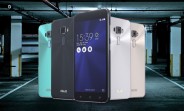 The new Zenfone 4 seems cool, but in case its price seems steep to you, you may want to check out the Asus Zenfone 3 ZE520KL. You can find it for £189 in the UK, which drops to £175 with the code SHP5Q3.

Sure, you're getting a smaller 5.2" IPS LCD instead of the 5.5" AMOLED screen of the new model and no dual camera either. But a sub-£200 price is still pretty solid for a phone with a 16MP camera with OIS, 2160p video capture and Android 7.0 Nougat. The 2,600mAh battery seems fairly small, but the Snapdragon 625 chipset will make the best of it.

Check out eGlobalCentral for the......
By: GSMArena - Monday, 21 August
To add to this post, use the comments section below to share your views or click here for detailed content
Metro Tell is a complete voice of the world's media. We are constantly distributing news and information items every minute of the day from numerous number of news establishments, publishers and blogs to the general public. MetroTell.co.za is the one source for all the news and stories you love.
All images, logos, trademarks and copyrights on MetroTell.co.za are owned by their respective owners.
- Advertisement -
Related Posts