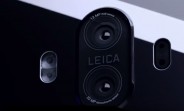 Following an image teaser released last week, today Huawei has upped the game and outed the first video teaser for its upcoming flagship phablet. We're talking about the Mate 10, of course, which the Chinese company refers to as "the device worth waiting for" in its teasers.

While it stops short of naming it, the video does tell us it's part of the Mate series. What could it be?

The Mate 10 will have a dual rear camera setup just like its predecessor, and it will bear the Leica name - unsurprisingly given Huawei's long-running partnership with the brand. A peek at the few seconds......
By: GSMArena - Monday, 21 August
To add to this post, use the comments section below to share your views or click here for detailed content
Metro Tell is a complete voice of the world's media. We are constantly distributing news and information items every minute of the day from numerous number of news establishments, publishers and blogs to the general public. MetroTell.co.za is the one source for all the news and stories you love.
All images, logos, trademarks and copyrights on MetroTell.co.za are owned by their respective owners.
- Advertisement -
Related Posts
Older News
Oreo update for Huawei Mate 9 could be arriving soon GSMArena (Today) - Looks like the Huawei Mate 9 could be receiving the Oreo update soon. The device with Android 8.0 on board has been spotted listed on benchmarking website Geekbench.For what it's...
Sony Xperia XZ Premium camera scores 83 on DxOMark GSMArena (Today) - The iPhone 8 and 8 Plus have dominated the camera game according to DxO's latest camera testing procedures with scored of 94 and 92, respectively.The Sony Xperia XZ Premium was...
Huawei Maimang 6 goes official with Kirin 659 SoC, four cameras GSMArena (Yesterday) - As scheduled, the Huawei Maimang 6 has been officially announced by the company. The device is powered by Kirin 659 SoC with octa-core processor, and sports a 5.9-inch display with...
Asus Zenfone 4 and Zenfone 4 Max are officially headed to the UK GSMArena (2 days ago) - Asus is launching two members of its ever-expanding Zenfone 4 family in the UK this year. The Zenfone 4 and Zenfone 4 Max will both become available in the next...
Moto G5S Plus lands in the US on September 29, pre-orders are live for $229.99 GSMArena (2 days ago) - Yesterday was all about the Moto X4 and its US availability - in both the newly unveiled Android One iteration and the usual version with Moto software. Today the Lenovo-owned...
Huawei Mate 10 Lite leaks in hands-on video, showing off its four cameras and 18:9 screen GSMArena (2 days ago) - To the disappointment of no one, we yesterday found out that Huawei won't rebrand the Maimang 6 for countries other than China as G10, instead selling the same device as...
vivo X20 and X20 Plus unveiled with 18:9 Full View screens, Snapdragon 660 GSMArena (2 days ago) - Today vivo took the wraps off its latest creations, the X20 and X20 Plus. The X9s and X9s Plus are only a few months old but we already get newer,...
TENAA reveals the true specs of ZTE nubia NX595J  GSMArena (2 days ago) - It turns out that just about nothing in yesterday's rumor about the ZTE nubia NX595J was true. First off, the phone very much has bezels - ample ones - and...
Quad-camera Huawei Maimang 6 to be sold outside China as Mate 10 Lite, not G10 GSMArena (3 days ago) - On September 22, Huawei is set to unveil the Maimang 6 for its home market of China. This phone has been leaking a lot lately, and we thought that it...
Moto X4 Android One smartphone becomes official for Fi, priced at $399 GSMArena (3 days ago) - The previously leaked Android One version of the Moto X4 has been made official by Google and Motorola today. It's the first Android One device that will be sold in...