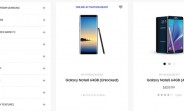 Someone at Samsung jumped the gun, it seems, as the South Korean company's yet-to-be-unveiled Galaxy Note8 smartphone made an appearance on its official website.

It's the 64GB storage variant that showed up, with the listing also revealing the device's model number, as well as some of the key features that the Note8 will offer.

However, shortly after the development was picked by mainstream tech media, the listing was taken down. If you try accessing that page now, you'll get a 'page not found error.'

Pretty much everything about the Galaxy Note8 is already known. It's set to......
By: GSMArena - Saturday, 19 August
To add to this post, use the comments section below to share your views or click here for detailed content
Metro Tell is a complete voice of the world's media. We are constantly distributing news and information items every minute of the day from numerous number of news establishments, publishers and blogs to the general public. MetroTell.co.za is the one source for all the news and stories you love.
All images, logos, trademarks and copyrights on MetroTell.co.za are owned by their respective owners.
- Advertisement -
Related Posts