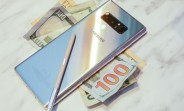 The Galaxy Note8 became official today, as you may know. It's a pretty special device not just because of its near-bezelless screen or because it's the first Samsung phone to sport a dual rear camera setup. It's also the successor to the exploding Galaxy Note7 from last year, which got discontinued after two recalls.

Samsung remembers that fiasco, and the company is also proving that it hasn't forgotten the people who bought its fire-prone smartphone in 2016. In the US, if you owned a Galaxy Note7, you'll be able to get a discount on the new Note8.

A pretty significant discount,......
By: GSMArena - Wednesday, 23 August
To add to this post, use the comments section below to share your views or click here for detailed content
Metro Tell is a complete voice of the world's media. We are constantly distributing news and information items every minute of the day from numerous number of news establishments, publishers and blogs to the general public. MetroTell.co.za is the one source for all the news and stories you love.
All images, logos, trademarks and copyrights on MetroTell.co.za are owned by their respective owners.
- Advertisement -
Related Posts