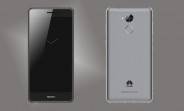 New Huawei phone dubbed Nova Smart appeared on a Slovak website with €200 price tag. After deeper look, we realized it is just the renamed Huawei Enjoy 6s.

The Huawei Nova Smart is a lower-midrange phone, powered by a Snapdragon 435 chipset with octa-core CPU. The RAM is 2 GB while the storage is 16 GB and can be expanded up to 128 GB due to a microSD slot. The device has a fingerprint scanner on the back despite its pricing, and you can find it below the 13 MP primary camera. The OS is Android 6.0 Marshmallow with Huawei's EMUI 4.1 on top.

The regular price is......
By: GSMArena - Friday, 21 April
To add to this post, use the comments section below to share your views or click here for detailed content
Metro Tell is a complete voice of the world's media. We are constantly distributing news and information items every minute of the day from numerous number of news establishments, publishers and blogs to the general public. MetroTell.co.za is the one source for all the news and stories you love.
All images, logos, trademarks and copyrights on MetroTell.co.za are owned by their respective owners.
- Advertisement -
Related Posts
Older News
Check out the first Meizu M6 Note camera samples GSMArena (Today) - Earlier today Meizu launched the M6 Note with dual camera setup on the back. And now we get a few samples from the 12MP+5MP combo sensor, showing what it can...
Huawei Mate 10 Pro to have bezel-less screen, Mate 10 sticking with traditional design GSMArena (Yesterday) - Huawei is unveiling the Mate 10 at an event in Munich on October 16, and the Chinese company has already outed the first video teaser for the upcoming device. We've...
Huawei takes a dig at Samsung in latest IFA teaser GSMArena (Yesterday) - Huawei reminded on Twitter about its presence at IFA 2017 in Berlin, while dissing its rival Samsung. The Shenzhen company is going by the slogan "Do what matters" but scratches...
First video teaser for the Huawei Mate 10 is out, reveals Leica-branded dual rear camera GSMArena (2 days ago) - Following an image teaser released last week, today Huawei has upped the game and outed the first video teaser for its upcoming flagship phablet. We're talking about the Mate 10,...
Samsung reportedly bought up almost all available Snapdragon 845 chips GSMArena (2 days ago) - A rumor by the fairly reliable @ice suggests we may have a repeat of the first half of the year when Samsung hoarded all available supply of Qualcomm's top chipset,...
R2K Gauteng Rejects Home Affairs' 'Smart ID' System! allAfrica.com (2 days ago) - [R2K] On Tuesday 22 August 2017, R2K Gauteng will march to Home Affairs Head Office, Hallmark Building, 230 Johannes Ramokhoase Street in Pretoria to challenge the new "Smart ID" system....
Huawei Nova Lite+ and Nova Young go on sale in Italy GSMArena (2 days ago) - The Italian market has gotten two Huawei smartphones today - the Huawei Nova Lite+ and the Nova Young, which we've previously seen as the Huawei Y7 and the Huawei Y6...
Week 32 in review: Nokia 8 and Asus Zenfone 4 quartet go official GSMArena (3 days ago) - In a welcome change of pace, this week brought a few major announcements to go with the usual leaks.Nokia, now under HMD management, brought its first proper flagship as the...