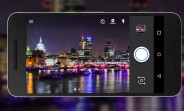 Google has pushed out a new update to its Camera app that bumps the version to 4.4. Among the key changes the update brings along, is the Selfie Flash feature that's aimed at improving your low-light selfies.

To access the functionality while taking a selfie, just make sure the Flash option is set to automatic or on. That's it. Now when you capture the image, the app will produce a little extra light, simulating flash.

It's worth mentioning that you may observe a yellowish-brown color light covering the entire screen after you tab the click icon and before your captured image shows......
By: GSMArena - Saturday, 12 August
To add to this post, use the comments section below to share your views or click here for detailed content
Metro Tell is a complete voice of the world's media. We are constantly distributing news and information items every minute of the day from numerous number of news establishments, publishers and blogs to the general public. MetroTell.co.za is the one source for all the news and stories you love.
All images, logos, trademarks and copyrights on MetroTell.co.za are owned by their respective owners.
- Advertisement -
Related Posts