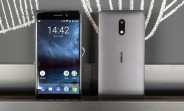 The Nokia 6 just went on sale for the first time in India and was sold out in less than 1 minute - just like it did in China.

The flash sale took place at Amazon India and had gathered more than 1 million registrations. The next flash sale is at 12PM on August 30 - exactly one week from now. The price of the phone is INR 14,999 ($235).

There's no word yet how many devices were available in the flash sale.

Source | Via...
By: GSMArena - Wednesday, 23 August
To add to this post, use the comments section below to share your views or click here for detailed content
Metro Tell is a complete voice of the world's media. We are constantly distributing news and information items every minute of the day from numerous number of news establishments, publishers and blogs to the general public. MetroTell.co.za is the one source for all the news and stories you love.
All images, logos, trademarks and copyrights on MetroTell.co.za are owned by their respective owners.
- Advertisement -
Related Posts