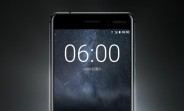 The first New Nokia phone came out of the blue, the Nokia 6, but we're getting advance warning for what's coming next.

"More announcements to follow on February 26th." Yes, announcements, plural. One of those announcements could be that the Nokia 6 will launch outside of China (it just went on pre-order there). But we will probably be getting a new phone or two as well - there should be 6-7 new Nokia phones this year. It seems that the Nokia E1 is closest to being market-ready.

By the way, February 26 is not a random date - it's just a day before MWC 2017 officially begins (but......
By: GSMArena - Wednesday, 11 January
To add to this post, use the comments section below to share your views or click here for detailed content
Metro Tell is a complete voice of the world's media. We are constantly distributing news and information items every minute of the day from numerous number of news establishments, publishers and blogs to the general public. MetroTell.co.za is the one source for all the news and stories you love.
All images, logos, trademarks and copyrights on MetroTell.co.za are owned by their respective owners.
- Advertisement -
Related Posts
Older News
Nokia 150 feature phone lands in India GSMArena (3 days ago) - Unveiled by HMD back in December last year and already available in Europe, the Nokia 150 feature phone has now arrived in India. Third party retailers including Amazon and Flipkart...