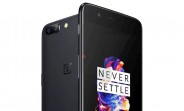 The OnePlus 5 India pricing has leaked via a forum post on Weibo. According to the post, the 64GB model with 6GB RAM will be priced at INR 32,999 ($512) and the 128GB model with 8GB RAM will be priced at INR 37,999 ($589).

The USD prices are, of course, for reference and the actual US pricing will be different, with $499 and $599 being the likely US equivalent.

The OnePlus 5 is expected to have a 5.5-inch 1080p display, Snapdragon 835 processor, and a dual rear camera, along with the aforementioned RAM and storage configurations.

The phone will be launched in the US on June......
By: GSMArena - Monday, 19 June
To add to this post, use the comments section below to share your views or click here for detailed content
Metro Tell is a complete voice of the world's media. We are constantly distributing news and information items every minute of the day from numerous number of news establishments, publishers and blogs to the general public. MetroTell.co.za is the one source for all the news and stories you love.
All images, logos, trademarks and copyrights on MetroTell.co.za are owned by their respective owners.
- Advertisement -
Related Posts