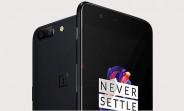 The upcoming OnePlus 5 has been the subject of several rumors and leaks so far. It's currently said to come with a 3,300mAh battery, but - if a new leak is to be believed - that might not be the case. The leak says the device will pack in a larger, 4,000mAh battery.

The leak also confirms some other key information we already know from past rumors, including chipset, memory, and pricing. It also reveals Slate Grey, Soft Gold, and Deep Black color options.

Needless to say, none of this has been officially confirmed (except for the chipset, of course) and it doesn't match the majority......
By: GSMArena - Monday, 19 June
To add to this post, use the comments section below to share your views or click here for detailed content
Metro Tell is a complete voice of the world's media. We are constantly distributing news and information items every minute of the day from numerous number of news establishments, publishers and blogs to the general public. MetroTell.co.za is the one source for all the news and stories you love.
All images, logos, trademarks and copyrights on MetroTell.co.za are owned by their respective owners.
- Advertisement -
Related Posts