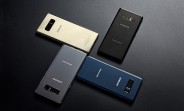 The Samsung Galaxy Note8 is official, now it's time to talk money. The rollout will be simultaneous worldwide - pre-orders start at midnight, sales kick off on September 15.

Different colors will be available in different regions - most regions get a choice between two versions initially. Those that pre-order or buy a Galaxy Note8 by September 24, you're in for some extra goodies (but again, what you get is region-dependent).

Note that these are for SIM-free devices. We have info on US carrier plans below that.

Where

Price

Colors

Early owner bonus

......
By: GSMArena - Wednesday, 23 August
To add to this post, use the comments section below to share your views or click here for detailed content
Metro Tell is a complete voice of the world's media. We are constantly distributing news and information items every minute of the day from numerous number of news establishments, publishers and blogs to the general public. MetroTell.co.za is the one source for all the news and stories you love.
All images, logos, trademarks and copyrights on MetroTell.co.za are owned by their respective owners.
- Advertisement -
Related Posts