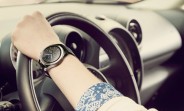 Inline with expectations, Samsung has announced its Gear S3 smartwatch for India. The device (both classic and frontier variants) carries a price tag of INR 28,500 (around $418), and will go on sale in the country next week - January 18 to be precise.

"With the Gear S3, we continue to build on our wearables heritage of offering diverse choices to enhance consumers' unique lifestyles," said Manu Sharma, Vice President, Mobile Business, Samsung India.

"With the new Gear S3, we expand our Gear collection and introduce not only a great smartwatch, but a great watch. With smart......
By: GSMArena - Tuesday, 10 January
To add to this post, use the comments section below to share your views or click here for detailed content
Metro Tell is a complete voice of the world's media. We are constantly distributing news and information items every minute of the day from numerous number of news establishments, publishers and blogs to the general public. MetroTell.co.za is the one source for all the news and stories you love.
All images, logos, trademarks and copyrights on MetroTell.co.za are owned by their respective owners.
- Advertisement -
Related Posts
Older News
No plans to sell refurbished Galaxy Note7 units in the country, Samsung India says GSMArena (Today) - Shortly after a report out of Samsung's home country of South Korea suggested that the company is planning to sell refurbished Galaxy Note7 units in emerging markets like India, the...
India, Aussies renew rivalry The Herald (Yesterday) - PUNE. – Steve Smith's Australia have the chance of halting India's Test cricket juggernaut in a series between the world's top two sides starting this week which promises to be...
Samsung's C-Lab to introduce AR and VR projects at MWC GSMArena (Yesterday) - Samsung's in-house tech incubator C-Lab introduced a smart strap that turns your fingerprint into a phone earpiece. Now there are four new projects that are here to amuse us and...
Samsung Africa Forum returns to continent CAJ News Africa (Yesterday) - By MTHULISI SIBANDA JOHANNESBURG, (CAJ News) – SAMSUNG will showcase products selected specifically for the unique needs of African customers when the annual Africa Forum makes a return to continent...
Report says refurbished Samsung Galaxy Note7 units will go on sale this June GSMArena (Yesterday) - Back in September, there were reports that Samsung could bring back the ill-fated Galaxy Note7 to the market in refurbished form. Now, a new report from South Korea is confirming...
LG Display to start shipping LCD panels to Samsung this July GSMArena (Yesterday) - After Foxconn acquired Sharp, the Japanese screen manufacturer notified Samsung that it will stop deliveries of its LCD panels, instead focusing on its own Sharp Aquos TVs.Surprisingly, Samsung Electronics turned...
Samsung Galaxy Tab S3 images leak through regulatory certification in Taiwan GSMArena (2 days ago) - Since it's not ready to unveil the Galaxy S8 at Mobile World Congress (MWC) this Sunday in Barcelona, Samsung will use that event to announce the Galaxy Tab S3 instead....
Channel24.co.za | Everything you need to know about the new season of Top Gear Channel24 (2 days ago) - Top Gear returns for season 24 in March on BBC Brit (DStv 120)....
Top 10 trending phones of week 7 GSMArena (3 days ago) - Samsung reclaimed the top spot after 4 weeks of Xiaomi Redmi Note 4 domination. The Galaxy J7 Prime was in second place last week, but in week 7 it rose...
Weekly poll results: 1080p screens are good enough, there's not much need for 4K GSMArena (3 days ago) - It seems that we've hit a wall when it comes to mobile screen resolutions - not that the technology isn't there, it's the purpose that is missing. Sure, VR enthusiasts...