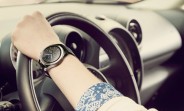 Inline with expectations, Samsung has announced its Gear S3 smartwatch for India. The device (both classic and frontier variants) carries a price tag of INR 28,500 (around $418), and will go on sale in the country next week - January 18 to be precise.

"With the Gear S3, we continue to build on our wearables heritage of offering diverse choices to enhance consumers' unique lifestyles," said Manu Sharma, Vice President, Mobile Business, Samsung India.

"With the new Gear S3, we expand our Gear collection and introduce not only a great smartwatch, but a great watch. With smart......
By: GSMArena - Tuesday, 10 January
To add to this post, use the comments section below to share your views or click here for detailed content
Metro Tell is a complete voice of the world's media. We are constantly distributing news and information items every minute of the day from numerous number of news establishments, publishers and blogs to the general public. MetroTell.co.za is the one source for all the news and stories you love.
All images, logos, trademarks and copyrights on MetroTell.co.za are owned by their respective owners.
- Advertisement -
Related Posts