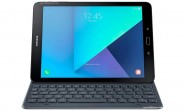 Samsung will be announcing its latest Galaxy Tab S3 9.7 in India next week. The company has already sent out invites for the launch, which will be happening in Bangalore on June 20.

The Galaxy Tab S3is the latest large screen tablet by Samsung and a successor to the Tab S2 from last year. It has a 9.7-inch, 2048x1536 resolution Super AMOLED display, Snapdragon 820 processor, 4GB RAM, 32GB expandable storage, stereo speakers, and a 6000mAh battery. It also comes with Samsung's S Pen for note taking and drawing.

Pricing and availability information will be released on launch day....
By: GSMArena - Saturday, 17 June
To add to this post, use the comments section below to share your views or click here for detailed content
Metro Tell is a complete voice of the world's media. We are constantly distributing news and information items every minute of the day from numerous number of news establishments, publishers and blogs to the general public. MetroTell.co.za is the one source for all the news and stories you love.
All images, logos, trademarks and copyrights on MetroTell.co.za are owned by their respective owners.
- Advertisement -
Related Posts
Older News
Samsung Galaxy Tab A 8.0 (2017) gets TENAA certified GSMArena (Today) - After appearing in benchmark listings and getting WiFi certification from the WiFi Alliance (WFA), the Samsung Galaxy Tab A 8.0 (2017) has been spotted on the website of China's TENAA....
Samsung Galaxy Note8 US pre-orders to start on August 24. Sales on September 15 GSMArena (Today) - Following rumors that the Samsung Galaxy Note8 will be available in the US a day after its unveiling, the usually reliable tipster @evleaks has confirmed August 24 as the date...
Samsung Bixby's global launch process begins GSMArena (Today) - Samsung has started rolling out updates to Bixby apps - including Bixby, Bixby PLM, Bixby Wakeup, Bixby Dictation and Bixby Global Action - in several markets around the world. Users...
Galaxy Note8 briefly shows up on Samsung's official website GSMArena (Today) - Someone at Samsung jumped the gun, it seems, as the South Korean company's yet-to-be-unveiled Galaxy Note8 smartphone made an appearance on its official website.It's the 64GB storage variant that showed...
Nougat for Samsung Galaxy A8, A9 Pro, and Tab E is being tested GSMArena (Yesterday) - Looks like a couple of Samsung Galaxy A series smartphones and the TAB E series tablets will soon get the Nougat update. All these devices - the Galaxy A8, A9...
Galaxy Note8 dummy leaks in the wild, promotional materials confirm specs GSMArena (2 days ago) - The upcoming Samsung Galaxy Note8 leaked in a press render showing its Deep Sea Blue color version less than a day ago, and now we're back with more on the...
The Nokia 8 vs Samsung Galaxy S8+ vs OnePlus 5 GSMArena (2 days ago) - Nokia 8 was announced yesterday with dual 13 MP cameras and Carl Zeiss optics. The first true Nokia Android flagship restarted the debate which high-end device sports the best camera...
iPhone 7 is the most popular smartphone in Q2 2017 GSMArena (2 days ago) - Strategy Analytics posted its latest research on best-selling smartphones in Q2 2017. The results unveiled a dominance of Apple's iPhone 7 and iPhone 7 Plus at the top two spots,...
Samsung Galaxy S7 edge drops to €420 in Germany GSMArena (2 days ago) - The Galaxy Note8 is days away from unveiling and we "know" most of the specs. So, perhaps it's not the best time to buy a Galaxy S7 edge, unless you...
Fin24.com | Nokia-Maker mixes with Apple, Samsung in new smartphone launch Fin24 News (2 days ago) - Finnish company HMD Global Oy has unveiled its latest Nokia-branded smartphone in a first bid to win over Samsung and Apple customers....