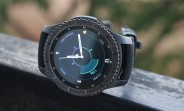 Samsung may have unveiled the Galaxy Note8 today at its own separate event, but the Korean company hasn't forgotten about the IFA trade show that starts in Berlin next week either. In fact, Samsung will announce a new Gear S smartwatch at IFA, as it turns out. This information comes straight from the horse's mouth, as they say. It was revealed by DJ Koh, the president of Samsung's mobile division.

Unfortunately he didn't out any specific details about the next Gear watch, which will succeed the Gear S3 classic and Gear S3 frontier from last year. He did however say that the wearable market......
By: GSMArena - Wednesday, 23 August
To add to this post, use the comments section below to share your views or click here for detailed content
Metro Tell is a complete voice of the world's media. We are constantly distributing news and information items every minute of the day from numerous number of news establishments, publishers and blogs to the general public. MetroTell.co.za is the one source for all the news and stories you love.
All images, logos, trademarks and copyrights on MetroTell.co.za are owned by their respective owners.
- Advertisement -
Related Posts