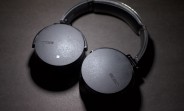 The popularity of Beats headphones has gotten a lot of people into bass heavy sound. But even before Beats existed, Sony had a bass fetish. Going all the way back to the days of the cassette Walkmans, those who had one will know about the existence of this little switch called MEGABASS, which was like nitro boost for your music.

But it's not the 90s anymore and more and more people are being introduced to high fidelity, high resolution music that is all about staying true to what the artist intended than wavy equalizer curve music. But Sony hasn't yet gotten over its fondness for......
By: GSMArena - Sunday, 18 June
To add to this post, use the comments section below to share your views or click here for detailed content
Metro Tell is a complete voice of the world's media. We are constantly distributing news and information items every minute of the day from numerous number of news establishments, publishers and blogs to the general public. MetroTell.co.za is the one source for all the news and stories you love.
All images, logos, trademarks and copyrights on MetroTell.co.za are owned by their respective owners.
- Advertisement -
Related Posts