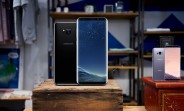 Korean pre-orders for the Samsung Galaxy S8 started shipping a couple of days ago. The first day saw 210,900 units being delivered, but the number fell to just 63,400 on the second day. Reason? Supply issues.

Reports citing Korean carriers are suggesting that it's the Galaxy S8+ variant with 6GB RAM and 128GB storage which is facing supply shortages.

This shouldn't really come as a surprise as the tech giant had previously made it clear that the model in question will arrive a bit late for some of those who've pre-ordered it.

With a total of over 1 million pre-orders, the Samsung......
By: GSMArena - Thursday, 20 April, 2017
To add to this post, use the comments section below to share your views or click here for detailed content
Metro Tell is a complete voice of the world's media. We are constantly distributing news and information items every minute of the day from numerous number of news establishments, publishers and blogs to the general public. MetroTell.co.za is the one source for all the news and stories you love.
All images, logos, trademarks and copyrights on MetroTell.co.za are owned by their respective owners.
- Advertisement -
Related Posts