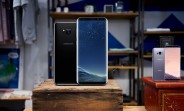 Korean pre-orders for the Samsung Galaxy S8 started shipping a couple of days ago. The first day saw 210,900 units being delivered, but the number fell to just 63,400 on the second day. Reason? Supply issues.

Reports citing Korean carriers are suggesting that it's the Galaxy S8+ variant with 6GB RAM and 128GB storage which is facing supply shortages.

This shouldn't really come as a surprise as the tech giant had previously made it clear that the model in question will arrive a bit late for some of those who've pre-ordered it.

With a total of over 1 million pre-orders, the Samsung......
By: GSMArena - Thursday, 20 April
To add to this post, use the comments section below to share your views or click here for detailed content
Metro Tell is a complete voice of the world's media. We are constantly distributing news and information items every minute of the day from numerous number of news establishments, publishers and blogs to the general public. MetroTell.co.za is the one source for all the news and stories you love.
All images, logos, trademarks and copyrights on MetroTell.co.za are owned by their respective owners.
- Advertisement -
Related Posts
Older News
Samsung will announce a new Gear smartwatch at IFA next week GSMArena (Today) - Samsung may have unveiled the Galaxy Note8 today at its own separate event, but the Korean company hasn't forgotten about the IFA trade show that starts in Berlin next week...
T-Mobile records its own Galaxy Note8 unboxing video GSMArena (Today) - It's Galaxy Note8 day today, which means you probably won't mind yet another article about Samsung's much anticipated phablet. We've already covered the announcement, we've given you the pricing details,...
Galaxy Note8 will be up to $425 cheaper for those who had a Note7 GSMArena (Today) - The Galaxy Note8 became official today, as you may know. It's a pretty special device not just because of its near-bezelless screen or because it's the first Samsung phone to...
Here are the official promo videos and infographics for the Galaxy Note8 GSMArena (Today) - Unless you've been living under a rock, you know that today Samsung took the wraps off its latest flagship smartphone, the Galaxy Note8. We assume you've read all about it...
All the Samsung Galaxy Note 8 Details IGN Africa (Today) - Released date. Specs. Features. And Price.The smartphone sports a 6.3-inch super AMOLED screen and comes in four different colors....
Samsung Galaxy Note8 pricing and launch info GSMArena (Today) - The Samsung Galaxy Note8 is official, now it's time to talk money. The rollout will be simultaneous worldwide - pre-orders start at midnight, sales kick off on September 15.Different colors...
These samples show off Galaxy Note8's dual camera GSMArena (Today) - Samsung has prepared a wide assortment of camera samples shot with the Galaxy Note8 in all sorts of lighting conditions and situations (including some wet locales).Here are the samples shot...
Samsung Galaxy Note8 unveiled with dual camera, 6.3" Infinity Display GSMArena (Today) - The canvas just got bigger - the Samsung Galaxy Note8 comes with a 6.3" Infinity Display for an edge-to-edge writing experience with the S Pen. It has been a long...
Samsung Galaxy Note8 hands-on review: First impressions GSMArena (Today) - The successor to the Samsung Galaxy Note 4/5 is finally here - meet the Galaxy Note8. Wait, what? Okay, Europeans didn't get the Note5 because Samsung, and we all know...
Watch the Samsung Unpacked event: Galaxy Note8 revealed GSMArena (Today) - The Samsung Unpacked event starts soon and the Galaxy Note8 will finally be taken out of its box. We'll be covering the announcements as they come, but you might want...