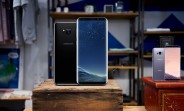 Korean pre-orders for the Samsung Galaxy S8 started shipping a couple of days ago. The first day saw 210,900 units being delivered, but the number fell to just 63,400 on the second day. Reason? Supply issues.

Reports citing Korean carriers are suggesting that it's the Galaxy S8+ variant with 6GB RAM and 128GB storage which is facing supply shortages.

This shouldn't really come as a surprise as the tech giant had previously made it clear that the model in question will arrive a bit late for some of those who've pre-ordered it.

With a total of over 1 million pre-orders, the Samsung......
By: GSMArena - Thursday, 20 April
To add to this post, use the comments section below to share your views or click here for detailed content
Metro Tell is a complete voice of the world's media. We are constantly distributing news and information items every minute of the day from numerous number of news establishments, publishers and blogs to the general public. MetroTell.co.za is the one source for all the news and stories you love.
All images, logos, trademarks and copyrights on MetroTell.co.za are owned by their respective owners.
- Advertisement -
Related Posts
New In Last 45 Minutes
New Galaxy Note8 leaked renders show camera bump, confirm position of the fingerprint sensor GSMArena (Today) - Last week a comprehensive report shed a lot of light on Samsung's upcoming Note8 smartphone, including its record-breaking price. One of the things that leak did not have was any...
Older News
Samsung to focus on 6nm chips instead of 7nm GSMArena (Today) - Samsung lost the Snapdragon 845 job to TSMC, so the company is de-emphasizing 7nm chips and focusing on 6nm chips instead.6nm production is expected to start in 2019, when TSMC...
New Verizon Galaxy S7/S7 edge update fixes boot and Gear 360 connectivity issues GSMArena (Today) - Samsung Galaxy S7 and S7 edge on Verizon's network have started receiving a new update. Arriving as software version G930VVRU4BQF2 and G935VVRU4BQF2, the the firmware brings fixes to several issues,...
HTC U11 vs. iPhone 7 Plus vs. Xperia XZ Premium: Camera Shootout GSMArena (Yesterday) - A few weeks ago, we offered you a dramatic standoff between the LG G6, Samsung Galaxy S8, and the Sony Xperia XZ Premium. We followed that up with a head-to-head...
Samsung is second largest in wearable market, behind Apple GSMArena (Yesterday) - Samsung became the second largest player in the smart wearables space in the first quarter of 2017. The information comes from Strategy Analytics' data for global sales in Q1.Samsung captured...
Rose Pink Galaxy S8+ announced in Taiwan GSMArena (Yesterday) - Samsung just announced a Rose Pink Galaxy S8+ in Taiwan. Aside from the new color the rest of the hardware is identical to the regular (read 4GB of RAM) Galaxy...
Samsung sells over 1.3M Galaxy S8 units in Korea alone GSMArena (Yesterday) - Samsung announced the sales of the Galaxy S8 and the Galaxy S8+ surpassed the 1.3 million mark in South Korea. The number amounts for around 12,000 new phones every day,...
Samsung Galaxy Stellar 2 images leak, specs in tow GSMArena (Yesterday) - Samsung appears to be working on a successor for the little-known Galaxy Stellar that was a Verizon exclusive back in 2012. An official-looking gallery has leaked with the Galaxy Stellar...
Week 24 in review: OnePlus 5 goes official, LG announces G6+ GSMArena (2 days ago) - The OnePlus 5 hype finally reached its peak this week as the handset got its official debut. It's no surprise then that it completely dominated the headlines over the past...
Top 10 trending phones of week 25 GSMArena (2 days ago) - We have a change in the lead for a second week in a row as the OnePlus 5 took another step forward and claimed the crown. It gathered three times...