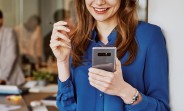 Samsung has prepared a wide assortment of camera samples shot with the Galaxy Note8 in all sorts of lighting conditions and situations (including some wet locales).

Here are the samples shot with the main camera - that's the one with an f/1.7 wide-angle lens. Note that some photos have the full 12MP resolutions, others have been cropped.

When you're browsing the images, keep an eye on the bottom on the screen - our gallery shows the EXIF image from the photos (though it is missing from some).

Samsung......
By: GSMArena - Wednesday, 23 August
To add to this post, use the comments section below to share your views or click here for detailed content
Metro Tell is a complete voice of the world's media. We are constantly distributing news and information items every minute of the day from numerous number of news establishments, publishers and blogs to the general public. MetroTell.co.za is the one source for all the news and stories you love.
All images, logos, trademarks and copyrights on MetroTell.co.za are owned by their respective owners.
- Advertisement -
Related Posts