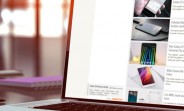 In a welcome change of pace, this week brought a few major announcements to go with the usual leaks.

Nokia, now under HMD management, brought its first proper flagship as the 8 went official in London. Coming with dual Zeiss camera and a Snapdragon 835, the Nokia 8 will aim to fight it out in the premium segment and from what our first impressions show it might just have what it takes.

Asus held its own event that saw the official debut of four Zenfone 4 handsets. Some interesting devices among those too, so be sure to check them out.

Meanwhile the Huawei Mate 10 leaks continued......
By: GSMArena - Sunday, 20 August
To add to this post, use the comments section below to share your views or click here for detailed content
Metro Tell is a complete voice of the world's media. We are constantly distributing news and information items every minute of the day from numerous number of news establishments, publishers and blogs to the general public. MetroTell.co.za is the one source for all the news and stories you love.
All images, logos, trademarks and copyrights on MetroTell.co.za are owned by their respective owners.
- Advertisement -
Related Posts