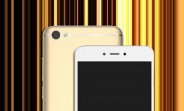 The Redmi Note 5 leaked a month ago and later we found out that there will be a more affordable Note 5A variant (the regular 5 will reportedly start at CNY 1,200 / $175 / €155). Additional details have emerged and the 5A isn't quite what we expected.

Dropping down from the Snapdragon 630/660, the more affordable model will use Snapdragon 425 instead (an old, 28nm chip). And it will have a smaller battery, 3,080mAh vs. 3,790mAh on the non-A model. In short, expect less performance and a shorter battery life.

Xiaomi Redmi Note 5A

The Xiaomi Redmi Note 5A will run Android 7.1 Nougat......
By: GSMArena - Friday, 11 August
To add to this post, use the comments section below to share your views or click here for detailed content
Metro Tell is a complete voice of the world's media. We are constantly distributing news and information items every minute of the day from numerous number of news establishments, publishers and blogs to the general public. MetroTell.co.za is the one source for all the news and stories you love.
All images, logos, trademarks and copyrights on MetroTell.co.za are owned by their respective owners.
- Advertisement -
Related Posts