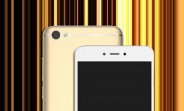 The Redmi Note 5 leaked a month ago and later we found out that there will be a more affordable Note 5A variant (the regular 5 will reportedly start at CNY 1,200 / $175 / €155). Additional details have emerged and the 5A isn't quite what we expected.

Dropping down from the Snapdragon 630/660, the more affordable model will use Snapdragon 425 instead (an old, 28nm chip). And it will have a smaller battery, 3,080mAh vs. 3,790mAh on the non-A model. In short, expect less performance and a shorter battery life.

Xiaomi Redmi Note 5A

The Xiaomi Redmi Note 5A will run Android 7.1 Nougat......
By: GSMArena - Friday, 11 August
To add to this post, use the comments section below to share your views or click here for detailed content
Metro Tell is a complete voice of the world's media. We are constantly distributing news and information items every minute of the day from numerous number of news establishments, publishers and blogs to the general public. MetroTell.co.za is the one source for all the news and stories you love.
All images, logos, trademarks and copyrights on MetroTell.co.za are owned by their respective owners.
- Advertisement -
Related Posts
Older News
All the Samsung Galaxy Note 8 Details IGN Africa (Today) - Released date. Specs. Features. And Price.The smartphone sports a 6.3-inch super AMOLED screen and comes in four different colors....
Samsung Note 8 Livestream IGN Africa (Today) - Join us as we livestream Samsung's reveal of the new Note 8Samsung is lifting the lid on the sequel to the ill-fated Note 7 and, if rumour is to be...
Check out the first Meizu M6 Note camera samples GSMArena (Today) - Earlier today Meizu launched the M6 Note with dual camera setup on the back. And now we get a few samples from the 12MP+5MP combo sensor, showing what it can...
Official Motorola distributor shares Moto X4 images ahead of launch GSMArena (Yesterday) - The upcoming Motorola Moto X4 has already been the subject of several leaks, but they've all come from third-party sources. Now, a new leak has surfaced and it comes directly...
Xiaomi Redmi Note 5A is official - 16MP selfies on the cheap GSMArena (2 days ago) - Say hello to the Xiaomi Redmi Note 5A. It comes with emphasis on selfies, good build quality, good screen and battery life, but most of all affordability.The Redmi Note 5A...
Xiaomi working with Google on next Android One smartphone GSMArena (2 days ago) - Google's project Android One is something that you might not even remember, but it's still alive. After the company launched the Sharp X1 exclusively for Japan, now there are rumors...
New Meizu M6 Note leak focuses on device's back and bottom GSMArena (2 days ago) - A handful of new images for the upcoming Meizu M6 Note have leaked, offering a closer and clearer look at the handset's back as well as bottom. The leak re-confirms...
Upcoming Motorola Moto X4 leaks in new images GSMArena (2 days ago) - Motorola's upcoming Moto X4 smartphone has already been the subject of several leaks and rumors and keeps popping up here and there. A fresh leak brings a couple of real...