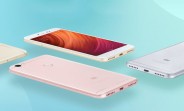 Say hello to the Xiaomi Redmi Note 5A. It comes with emphasis on selfies, good build quality, good screen and battery life, but most of all affordability.

The Redmi Note 5A has a 5.5" 1280x720px LCD, a 16MP front-facing camera and 13MP camera on the back. The phone features a fingerprint scanner on the back and a decent 3,080 mAh battery under the hood.

Xiaomi Redmi Note 5A

Powering the Xiaomi Redmi Note 5A is a Qualcomm Snapdragon 435 chipset with octa-core Cortex-A53 CPU. It's built on the dated 28nm process though, so it's not quite the best in terms of power......
By: GSMArena - Monday, 21 August
To add to this post, use the comments section below to share your views or click here for detailed content
Metro Tell is a complete voice of the world's media. We are constantly distributing news and information items every minute of the day from numerous number of news establishments, publishers and blogs to the general public. MetroTell.co.za is the one source for all the news and stories you love.
All images, logos, trademarks and copyrights on MetroTell.co.za are owned by their respective owners.
- Advertisement -
Related Posts